Joined: 06 Dec 2009, 00:17
Posts: 11563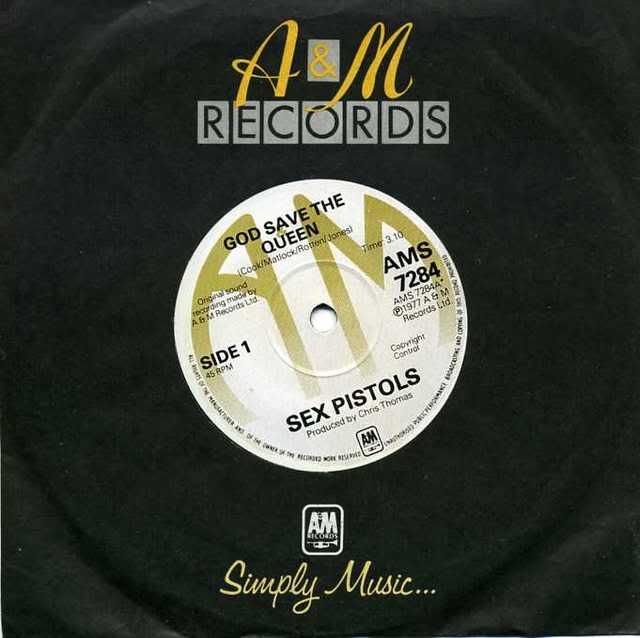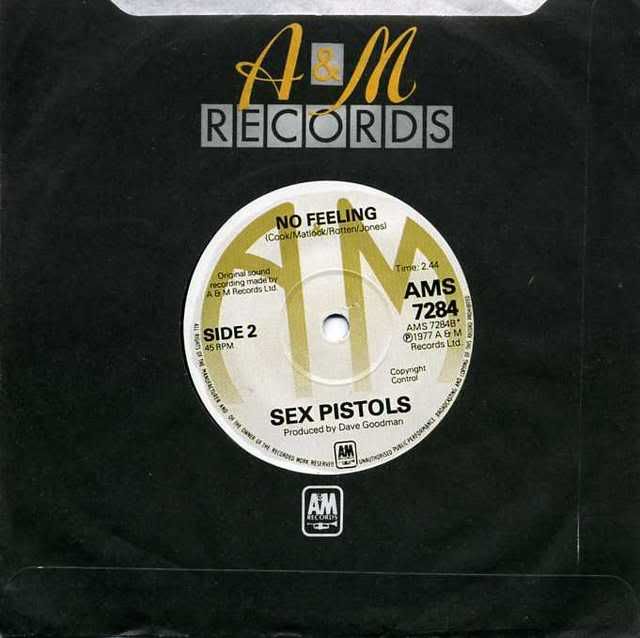 Record release that was quickly withdrawn by Aamp;M Records in March 1977 due to the general ill manners of the band, and especially Sid Vicious who decided to chin some hippie down The Speakeasy, this specific hippie carried a lot of weight due to him being the presenter of a half decent late night music programme (which got even better, as a young Penguin was coming of age musically).

Great record. As it happens being thrown off Aamp;M Records was the best thing that happened to this band, due to this record being delayed and coming out the week of the Queen#8217;s Silver Jubilee via Richard Branson#8217;s Virgin Record label. Another deal, another advance.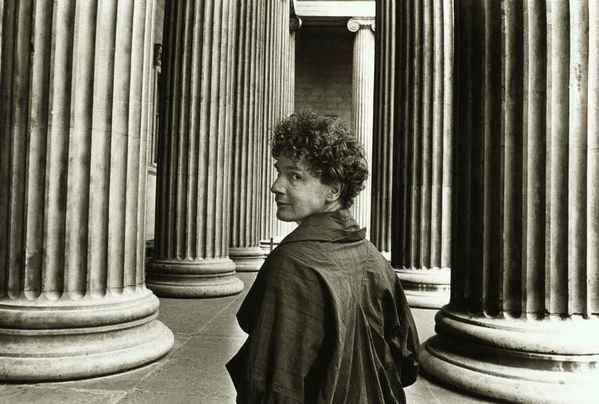 Malcolm McLaren, who has died aged 64, came to public attention in 1976 as the manager of the Sex Pistols, the punk band which he steered to fame and notoriety before their implosion barely two years later.

Presenting himself as svengali and arch media manipulator, McLaren went on to create and promote other bands such as Bow Wow Wow, wrote an opera, appeared on television as a pundit on the phenomenon of punk, and considered running, in 2000, as a candidate for mayor of London.

He once said: "I am a product of the Sixties. All I have ever felt is disruptive — I don't know any other way."

The son of a Scottish engineer, Malcolm McLaren was born on January 22 1946 in Stoke Newington, London. He was brought up by his maternal grandmother, Rose, who encouraged in him a subversive spirit. At school he developed a talent for manipulating his class-mates, on one occasion luring them to a rubbish tip and making them get into a large cardboard box he had saved in order that they could be his "Box Gang".

At 18 he went to Harrow Art School, where he lost his virginity to a talented designer five years his senior called Vivienne Westwood. He also met Jamie Reid, who would later create the Sex Pistols' provocative and influential graphics.

In the late Sixties, McLaren drifted through several art colleges, immersing himself in the writings of the Situationist International (SI), the French provocateurs whose new media practices included manifestos, broadsheets, pranks and disinformation; and he loitered on the fringes of King Mob, an SI splinter group.

For an unfinished film made while still at art college, he wrote a manifesto which would sum up the underpinnings of punk: "Be childish. Be irresponsible. Be disrespectful. Be everything this society hates."

In 1971, with Vivienne Westwood (who by now had had a child by him), McLaren opened a boutique at 430 King's Road in Chelsea. At first called Let It Rock, and then Too Fast to Live Too Young to Die, the shop sold then-unfashionable 1950s Teddy Boy drapes and crêpe-soled shoes to a new generation.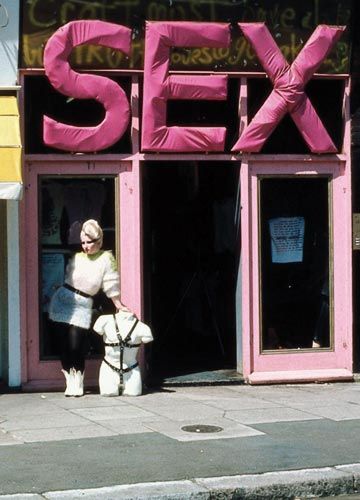 By 1974 the shop, now renamed Sex, and later Seditionaries, was selling Vivienne Westwood's proto-punk bondage gear and t-shirts printed with lettrist-inspired slogans. Run with the help of Jordan, a girl from the suburbs who favoured Samp;M gear, the shop was a hangout for a cast of young, bored and frustrated misfits, among them Steve Jones, Paul Cook and Glen Matlock.

In 1975 McLaren went to New York, where he became obsessed by the New York Dolls, a glam-metal male band who performed live in high heels, Lurex tights and make-up, though in an aggressive style which would make them influential to punks. Led by the singer David JoHansen and guitarist Johnny Thunders, the Dolls were the toast of the city's underground scene, having just signed a record deal.

McLaren soon talked his way into becoming the band's manager. His first move, the better to shock bourgeois Americans, was to put the Dolls into Maoist Red Guard outfits and have them play in front of a hammer and sickle flag; but New York was unimpressed by the band's new image and, disillusioned by the sudden downturn in their fortunes, Thunders and the drummer, Jerry Nolan, quit soon afterwards.

Undeterred, McLaren returned to London, intent on creating a band in the way that the Fifties manager Larry Parnes had moulded such stars as Billy Fury and Marty Wilde. When Steve Jones pestered him to find a rehearsal room for his band, McLaren did so; and with the addition as lead singer of John Lydon, another denizen of Sex, rechristened Johnny Rotten for the state of his teeth, the Sex Pistols were born.

After the demise of the Sex Pistols, McLaren continued to put out unreleased material by the band, until the aptly-named Flogging A Dead Horse album of 1979. The band sued McLaren in 1986 for royalties, eventually receiving £1 million in an out of court settlement.

In 1979, McLaren was invited to provide a new image for the band Adam and the Ants. For a consultancy fee of £1,000, he came up with a combination of American Indian and pirate garb, before suggesting to the band's guitarist and rhythm section that they abandon their singer, Adam Ant, and join a new group McLaren was forming called Bow Wow Wow.

With 14-year old Annabella Lwin on vocals, Bow Wow Wow released the single C30, C60, C90, Go (1980), a driving, Burundi-influenced paean to home taping composed by McLaren. This was followed by the cassette-only EP, Your Cassette Pet.

Bow Wow Wow's powerful and innovative sound was eventually rewarded by Top 10 hits with Go Wild in the Country and I Want Candy; but after a number of publicity stunts, including a photograph of Annabella Lwin semi-nude with the band in an album-sleeve pastiche of Manet's Déjeuner sur l'Herbe, the band folded in 1983.

That year, McLaren made his own recording debut, Duck Rock, a collection of songs based on "field recordings" made in Africa and incorporating New York's fast-growing hip-hop style, exemplified by rappers The World's Famous Supreme Team.

Although he was accused of plagiarism at the time, McLaren's appropriation of musical styles from around the world would soon be much imitated. The album included the Top 10 hits Buffalo Gals (the first British record to feature scratching) and the quirky Double Dutch.

After releasing Would Ya Like More Scratchin' (1984), McLaren then turned his attention to opera, producing the hit single Madame Butterfly and the album Fans (1985). Other albums mixing hip-hop and ethnic rhythms followed.

In the Nineties McLaren moved into television, producing commercials and, in 1991, a poorly received Christmas show, The Ghosts of Oxford Street, which featured The Pogues, Tom Jones and the Happy Mondays.

He returned to recording in 1993, signing to the French label Vogue and releasing an album, Paris, which gained poor reviews. In 1998 he attempted unsuccessfully to launch a group named Jungk, consisting of five beautiful Chinese girls.

McLaren co-produced for the film adaptation of Fast Food Nation, shown in 2006 at the Cannes Film Festival, and in the same year presented the documentary series Malcolm McLaren#8217;s Musical Map of London for BBC Radio 2. This was followed in 2007 by Malcolm McLaren#8217;s Life and Times in LA.

Also in 2007, he was due to appear in a reality television show for ITV, The Baron, which had to be postponed owing to the death of his fellow contestant Mike Reid. He was later due to appear in a series of I#8217;m a Celebrity#8230; Get Me Out of Here!, set in the Australian outback, but pulled out at the last moment.

Malcolm McLaren's son by Vivienne Westwood, Joe Corré, became proprietor of the successful lingerie shop Agent Provocateur.

ShareThis

[url=#]show enclosure[/url]
embed_flv('100%', '20', 'http%3A%2F%2Fwww.killyourpetpuppy.co.uk%2Fmp3%2Fpengs%2Fpistols0002.mp3%3Ffile_extension%3D.mp3', 'plugins/place_audio.png', 'false', 'plugins/mediaplayer.swf');(audio/mpeg; 2.62 MB)


Published on 2010-4-08 10:02pm GMT


Source / Link : http://www.killyourpetpuppy.co.uk/news/?p=614


_________________


I'm a bot. Every day I post new albums freshly uploaded.

Like the albums ?

Buy a t-shirt !

We have hundreds of different t-shirts designs, in various colors and sizes. If you like the music on this website then you will love the t-shirts !